Property auctions in Devon, England
Whether you are interested in buying at property auctions in Devon as a primary residence or second home, there are plenty of opportunities for you. As a popular holiday destination, you will also find many commercial properties on offer ranging from gift shops to hotels.
This biggest county in England also has a thriving agricultural industry so rural properties, such as cottages, are also regularly put up for sale. Prices, however, can vary widely so before buying any property sold at auction in Devon, read our informative guide to help you make the best choice.
Property prices in Devon
Location comes at a price and this is especially true when it comes to property for sale in Devon. Despite Devon's wide expanse of coastline, properties based on the coast and with a sea view can command much higher property prices than those further inland.
Therefore, it is worth compromising on property location and moving further inland. The price of property can drop by at least £100,000 for a home of similar style and condition.
Recommended Reading:
Let's take the example of a 3 bedroom semi-detached house for sale in Devon in relatively good condition. The price of this kind of family property in Devon ranges widely depending on where it is as the following table shows:
Under £150,000: Bideford, Cullompton, Newton Abbot, Plymouth, Paignton
£150,000-£200,000: Dartmouth, Exeter, Ilfracombe, Kingsbridge, Okehampton
£200,000-£250,000: Bovey Tracy, Sidmouth, Totnes, Braunton
£250,000+: Salcombe, Woolacombe, Chagford, Croyde
Where should you look for property for sale by auction in Devon?
The location of property auctions in Devon reflects the contrasts of the county itself. From busy seaside resorts to isolated rural villages, there are many different types of property for sale in Devonshire.
Among the many places with active property auctions in Devon, we have chosen a selection of locations to help you when you look for that dream property.
Plymouth
The largest city in Devon and based on the south coast, Plymouth has the widest range of property for sale by auction in Devon. These include 2, 3 and 4 bedroom detached, semi-detached and terraced houses built in the 19th and 20th centuries as well as flats and maisonettes, including the prestigious modern Mount Wise development, dubbed the 'village-by-the-sea'.
The average property price in Plymouth quoted by estate agents is £120,000 but you can pick up a property at auction in Plymouth for considerably less. You should carry out the necessary property survey and have the legal pack examined by your solicitor since the cheapest houses at property auctions in Plymouth often need major structural repairs or have tenants.
Property Resources:
Property in Exeter, Devon
Located a 45-minute drive from Plymouth, Exeter is another place to look for houses sold at property auctions in Devon. As a larger city, its housing stock is as varied as Plymouth and includes detached, semi-detached and terraced houses as well as flats and bungalows (many for the retired).
However, its popularity comes at a price and it has the third most expensive property for sale in Devon (after Dartmouth and Salcombe), averaging just over £175,000.
Property in Ilfracombe, Devon
For those attracted to a seaside resort, Ilfracombe is the ideal place to find a house, flat or bungalow, many of which are located on the cliff and with breath-taking views of the sea. It has very similar properties to Woolacombe but at much more affordable prices.
Woolacombe property prices average at £500,000 so Ilfracombe is a viable alternative for anyone seeking a more affordable property in Devon.
Barnstaple Property For Sale
Barnstaple is a busy market town often featured at property auctions in Devon where you can find property for sale by auction for as little as £100,000 depending on the size and condition.
Located on the rugged North Devon coastline, home buyers are drawn to Barnstaple because of the friendliness of its inhabitants, its sense of community and the quality of life away from the hustle and bustle of large urban areas.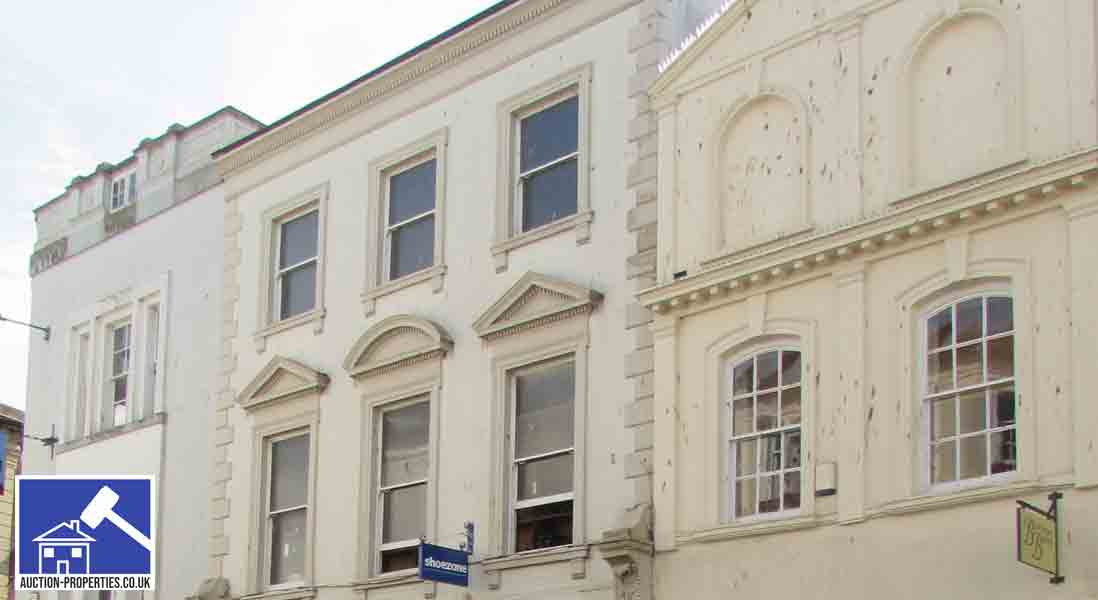 Property For Sale in Okehampton, Devon
Located in the west of the county near Dartmoor, Okehampton has a mix of urban properties for sale in the £150,000-£200,000 price range. On its outskirts, there are also more rural properties for sale such as cottages and converted barns which can be more affordable.
Many people choose to buy a property in Okehampton because of its slower pace of life and the peace and quiet.
Property auctions in Devon FAQ
How can I find auction properties in Devon?
Auction properties in Devon are marketed and arranged by national and local auction houses. The dates and times of property auctions can be found on their websites around a month before they take place. Full listings of homes to be sold can be viewed online or you could add your name to their mailing list and receive a catalogue.
How much are auction properties in Devon?
The average price of auction properties in Devon is around £333,000. However, this depends on the size, type and condition of the property. It therefore varies from a flat whose average price is £189,000 to detached residences (£510,000). A 5 bedroom detached house can go as high as £700,000.
Which areas are best to find auction properties in Devon?
Your choice of area depends on your requirements and how much you are prepared to pay. For those who wish to be near to transport links, the best area is in and around Plymouth (with its railway station) or east Devon (such as Exmouth and Cullompton) which links to the M5. The best inland towns are Totnes and Newton Abbot while popular seaside resorts in Devon include Salcombe, Woolacombe and Ilfracombe.
Can I buy repossessed properties at auction in Devon?
Sometimes, but generally the sale of repossessed property in Devon is unusual. Mainstream lenders do not usually sell repossessed properties through auction but prefer to market sales through estate agents avoiding informing would-be buyers that the house was repossessed.
What kind of auction property should you look for around Devon?
Residential property auctions in Devon
All architectural and period styles of home can be found in Devon from Victorian terraced houses in the larger urban centres to new-build bungalows with all the mod cons located close to the sea. Former fishermen's cottages are also available on the coast although they might need some investment to renovate them. In the areas around Dartmoor and Exmoor, you will also be able to find rural properties such as cottages and barn conversions.
For those looking for period homes such as merchant houses and townhouses, the best places to look are Dartmouth, Stoke and Peverell. However, these very rarely come onto the market and when they do, the auction guide price rarely starts below £500,000.
Commercial property for sale in Devon
Although Devon has shopping centres and retail parks located in or near its major towns and cities, it is one of the few places in the UK where independent retailers are also able to make a good living. Many of the High Streets in its towns consist of specialist shops and many inhabitants resist the incursion of chain stores when they try to open. It is possible to buy commercial auction properties for £10,000-£20,000, many of which are sold as a going concern.
Useful property resources for Devon:
Devon planning permission from Devon Council
Tourist guide to Devon from Visit Devon
Other property auctions in England:
Before buying at a property auction in Devon, it is worth doing your research beforehand by visiting some of the areas of Devon we have highlighted above.
Property Auctions UK (Home Page) – Local Property Auctions