London Property Auctions
Why buy at property auctions in London?
The UK capital has the highest property prices in the UK and buying at property auctions in London can be the most suitable option for someone who is looking for a home at a reduced rate. It is estimated that repossessions, homes put up for auction by mortgage providers, can have a guide price of up to 60% less than the same property would have demanded through an estate agent.
Although bidding can drive up the initial property guide price, it is still possible for home-buyers to pick up a bargain through a London property auction.
Buying property for sale by auction in London is also popular among UK property investors – whether that is someone looking to become a private landlord with a single buy-to-rent property or someone who wants to add to their existing property portfolio.
The demand for buy-to-let rental property far outnumbers its availability so buying property in the capital is a definite money earner and investors know that it will retain its value.
Property prices in London can be very high and London property auctions are no different. Stick to your budget and make a finish line for bidding. In the heat of a fast-paced London property auction it's easy to get carried away.
Property Prices In London
There are regional differences in property prices in the UK. Annual growth for property prices in London up to March 2020 was 4.7% with the price of a house averaging out at £486,000. Prices are higher in Inner London which had an average of £588,700 compared to £424,200 in Outer London.
Most homes sold in London are flats which are advertised at an average of £554,663 whilst terraced properties sold for an average of £687,411. Auction properties in London can be a lot cheaper than those sold through normal channels.
You can expect to see a guide price of £300,000 for a 2-bedroom apartment at a London property auction. Property prices in London vary greatly depending upon which area you choose to search.
Buying property at auction to become a landlord?
Get your free UK TENANCY AGREEMENTIncludes many useful legal documents for property in England, Scotland, Wales and Northern Ireland
Watch Video: Auction Properties In London
Where Should You Search for Auction Property In London?
Location and budget are the two main factors to consider when searching for auction properties in London. Transport and infrastructure should not be a problem but you should take into account how close you want to be to good schools, shopping outlets and bus or tube routes. Below are some of the areas you could consider when looking for auction properties in London.
Blackheath (SE10)
Blackheath is only 25 minutes away from the city but has the feel of a village. The area has many Georgian properties and prices are around 8% lower than central London. You can get a 2-bedroom maisonette for around £240,000. Blackheath station has rail services to major stations in the city and excellent bus services so it is ideal for commuting.
Streatham (SE27)
Streatham is in South West London 5 miles from Charing Cross. There is a variety of types of property and prices come in around 13.4% below the average for London. A 1-bedroom flat can be bought for around £75,000 at auction. Streatham has excellent schools and good shopping facilities. If you are looking for a leafy suburb with good links to the city centre then this area is one to consider.
Clapham (SW12)
Famous for the Common, Clapham is one of the up and coming trendy areas of the city. There are good transport links and a family friendly atmosphere. The old town has lots of restaurants and pubs. In Clapham you can find purpose built flats with prices circa £378,000 for a 2-bedroom. Apartments in Victorian houses will usually have larger rooms but if you own a car, parking should be taken into consideration. A 3-bedroom terrace house will attract a guide price of £475,000.
Bethnal Green (E1)
The East End of London has now become one of the most desirable places to live. Prices are on the rise but you can still get a 1-bedroom flat in a block for £290,000. There is easy access to central London and a vibrant local nightlife. Many of the schools in Bethnal Green have been rated outstanding. Bethnal Green has tube stations and overground railway routes.
Camden (NW1)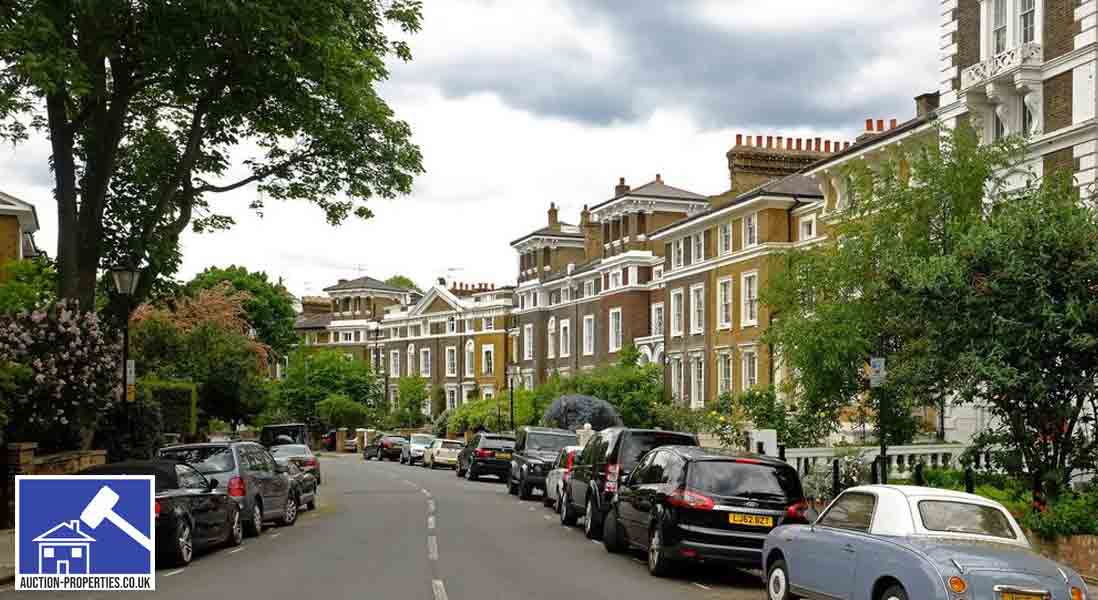 One of the more expensive areas in the city, Camden has a lot to offer. Open air street markets, restaurants and pubs make this area an exciting prospect but you can expect to pay more for a property. There are excellent transport links by bus and rail to the city as well as cycle tracks. A 2-bedroom apartment can cost around £800,000 but there are also flats that are advertised at around £120,000.
Finding Auction Properties in London
Of the estimated 400 auction houses in the UK, the vast majority are located in the London. Some feature properties for sale by auction from all over the UK while others concentrate exclusively on London property auctions.
The easiest way to find property for sale by auction in London is to visit a variety of auction house websites or attend a live London property auction.
Most online property auctions in London allow you to refine your search by the use of filters. You can be as general or as specific as you like. If you have specific criteria, you can use search parameters such as:
the location (by postcode/neighbourhood) and the acceptable range (within miles)
the price of the property
property types (residential vs. commercial or detached, etc.)
number of bedrooms if it is a residential property
special features e.g. with a garden or outbuildings
An alternative is to visit the website of the Essential Information Group (EIG).
Their website portal has details of over 850,000 properties which have previously been sold at auction while their property register is updated every month as more lots of every auction in the country are added to their database.
This can give you an insight into what prices property in London sold by auction has demanded in the past and what you might expect to pay.
Narrowing Down Your Search for Auction Property in London
Once you have an overview of all available property auctions in London, you are ready to narrow down your search. Each London auction house prints catalogues about 3-4 weeks before the auction will be held although it is often available online a few days beforehand. You should therefore contact the auctioneers and ask for a copy of their catalogue and ask to be added to their mailing lists.
Never rely solely on property auction catalogues as the basis for your property purchase. You should never bid at a London property auction unless you have viewed the property in person. This is a common and expensive mistake.
Auctioneers will be able to give you a list of fixed viewing times (open to all) where you can view the property. Alternatively, you could contact them to arrange a private viewing.
View And Inspect The Property
If you are not experienced with buying property it might be a good idea to go with someone who is more familiar with property purchases or ask a builder to accompany you. They will be able to point out any potential structural problems or issues caused by poor maintenance.
Once you have decided on a property that you are seriously interested in, you should arrange for the property to be surveyed. How much you pay for a survey will depend on how detailed it is. They vary in price from £300-£2,000+. As a general rule, the older and more badly-maintained the property, the more detailed the building survey should be.
You may also want to consider commissioning a damp survey on the property if this is not included in your original survey.
As well as investigating the structural integrity of houses and flats sold by auction, you should also have the legal pack of the property checked by a solicitor. This will ensure there are no unpleasant surprises in store for you in the future such as a defective legal title or restrictive covenant.
Five Reasons To Buy At London Property Auctions
1. You Can Find Amazing Property Bargains
Attending property auctions in London can prove stressful and even demoralising if you are searching in very popular areas of the city. However with enough diligence it is possible to pick up some real bargain properties, especially on the outskirts of the city. The property market in London is vibrant so do your research before attending a property auction.
2. Property Is Easy To Sell In London
London is one of the busiest property markets in the world. Investing in a low cost property in London can be a good investment and due to the high number of property buyers, selling a house or other property in London can be easier than many other parts of the country.
While some costs in the UK capital are higher, as are the London property prices in general, the city also enjoys the highest rate of value increase in the UK. This makes acquiring a suitable property at auction in London a sound proposition and a good property investment strategy.
3. The Cost Of Living in London
Many people cite the cost of living as a reason not to move to London but forget that salaries in the capital are higher than elsewhere in the UK. Additionally, property prices in London go up faster than in any other part of the UK. This can make buying a cheap flat in London a very worthwhile investment due to property and workforce demand.
4. London Is A Global Transport Hub
London is a hub for global transport. You can get anywhere you want to go using the London Underground, the overland railway or buses. Routes to other cities are well served and you can even get to Paris by the Eurostar. Good transportation makes London very attractive for commuters. The city is also served by four major airports.
5. The Historic Buildings And London Skyline
London must have more historic buildings than almost any other capital city. There are also new buildings and structures which contribute to the unique skyline which is recognised throughout the world. These include the London Eye, the Shard and the Gherkin. You can find Roman architecture, Tudor buildings and Royal palaces so there is always something to see.
Common questions about auction properties in London
How can I find auction properties in London?
You can find auction properties for sale in London by viewing specific property auction websites, attending a live auction in your area of interest or speaking to bank about properties put up for auction. In the case of properties auctioned by banks, such as repossession properties, the list of available property tends to be issued on a monthly basis. Check with your bank about any property they intend to sell by auction.
How much are auction properties in London?
The price of an auction property in London depends on the kind of property you intend to buy. Usually a guide price is given for any property being auctioned, and the guide price can often be seen as the starting price. In most cases a property sold at auction will be cheaper than the normal market value but higher than the guide price. A good idea is to attend a property auction without bidding, this will give you an idea of prices and how a property auction in London works.
Can I get a mortgage or loan to buy an auction property in London?
Yes, you can obtain finance in the form of a mortgage or loan to buy an auction property, but you must make sure you have a mortgage offer before bidding. It is imperative you have the finances in place to pay for the property should you win the auction. In addition, most property auction houses expect the winning bidder to pay 10% of the winning bid, plus the auction fees upon completion of the auction. Check with the property auction company before you place a legal bid on any property.
Can I buy unsold auction property in London?
You can buy property in London which is unsold at auction but this can also be very competitive. If the property fails to sell at the auction, any interested buyers and bidders may be invited to make an offer on the property. The auction house may have special instructions from the owner on how to deal with this situation if the property fails to sell. Make sure all your financing is in place and you are able to purchase the property without delay or hindrance.
Can a first time buyer purchase a property at a London auction?
Yes this is possible but if you have no experience with property auctions it is strongly recommended that you take advice from the auctions house and an experienced buyer. It is easy to get carried away at a property auction and bids for London property can increase quickly. You must be able to follow through with the purchase and all the associated fees from the auction house.
Financing for Auction Properties in London
Some potential buyers sell their home beforehand and move into rented accommodation until they find their dream home among all the auction properties on offer. The advantage of this strategy is that it allows them to release the equity in their old home to pay the initial 10% deposit and the other associated costs of buying houses sold at auction.
You have a number of other options when arranging to finance the purchase of auction properties in London. Mortgage providers will approve loans, but you need to work fast so that the paperwork is completed within the 28-day deadline.
Before applying for a mortgage in principle you should check the mortgage provider's lending criteria. For non-standard buildings, specialist mortgage brokers might be able to recommend other lenders apart from mainstream banks and building societies.
If you believe that the auction property financing will not be in place, a short-term bridging loan (also known as an auction loan) might be suitable for you. Despite their higher costs and fees, approval and funding are available within days rather than weeks.
How To Buy Auction Properties in London
Bids on auction properties in London can be made in person, over the phone or sometimes on the internet. You can also ask the auction house to bid by proxy if you prefer.
When you attend the auction house, it is crucial that you do not allow your emotional attachment to the property make you get carried away. You must stick to your budget. If you are outbid, do not impulsively bid for other houses sold at the auction. Without a viewing, survey, and a review of its legal pack, you might find yourself with an auction property which has major structural and/or legal issues.
If you are outbid at a London property auction, walk away. Learn from the experience and start your research all over again. Buying a property for sale by auction in London requires patience and preparation.
What Type Of Property In London Should You Look For?
As you would expect of the capital city you can find all kinds of property sold at auction in London. Commercial and industrial properties are plentiful and residential properties include detached, semi-detached, terraced houses and both purpose built flats and apartments within older houses. Locations will dictate property prices around London.
Residential Property Auctions In London
The size of London means that whatever type of residential property you want you will be able to find it at London property auctions. Whether you prefer to live in a built up area close to the city centre or a suburb where it is quieter with more open spaces there are lots of options.
Architectural types include terraced homes, Victorian villas, post-war semi-detached houses and mews cottages as well as an array of flats.
Commercial Property For Auction In London
London has many commercial property auctions. You can find empty shops and warehouses that are suitable for retail premises. Office space in SE4 can be purchased for around £10,000 but commercial property in Portobello Road will cost upwards of £1,000,000.
There are also bars, restaurants and clubs that can be purchased at auction. Those located close to the centre are priced accordingly but you can get a retail property in Leytonstone for about £65,000.
Buy-To-Let Auction Properties In London
Demand for housing in London is always high so purchasing a buy-to-let property at auction can be a good investment and will bring in a high income. In a place like Bermondsey you can expect to ask rental of £2,000 per month for a 1-bedroom apartment. A typical rental price in Brixton is circa £1,300 per month.
You could also consider bidding on a property to renovate at auction if you are confident of being able to manage a renovation project and keep an eye on home renovation costs. This can yield very high returns if the property renovation is carried out correctly. Property auctions in London are excellent places to source bargain properties suitable for renovation.
Useful property resources:
London councils housing and planning
Council tax bands for England and Wales
Auction Properties (Home Page) – UK Property Auctions