Your Property Auction Questions Answered
Our property auction help and FAQ section is an ever growing list of the most common questions our visitors have about buying or selling at property auctions in the UK.
Are property auctions cheaper than estate agents?
The property auction guide price can be anywhere from 10%-40% cheaper than properties sold via an estate agent. However, this guide price can increase in the days leading up to the sale and even on the auction day itself.
Sometimes, a low guide price is set to generate interest in the property. When vendors and auctioneers see a lot of interest, this can also drive up the price.
Recommended:
How do property auctions work?
A property auction house acts as an agent on behalf of the vendor to market and sell a property. Once registration at the auction has taken place, potential buyers make bids in ascending order and the highest bid secures the property.
An auction bid is as legally binding as a signed contract. The successful buyer then has to complete the paperwork as well as pay a 10% deposit of their winning bid with the remaining money to be paid within 28-56 days.
What happens if a property doesn't sell at auction?
If a property remains unsold at the end of the auction, then the auctioneer might have been given the authority to make a private sale. They will usually ask interested parties to make an offer at the end of the auction.
The offer will be accepted as long as it meets the vendor's reserve price. However, you should avoid buying an unseen property whose legal pack has not been examined by an expert.
Can I get a mortgage to buy a property at auction?
You should have a mortgage agreement in principle in place before attending the auction if you require financing. This is because a mortgage application usually takes 18-40 days to complete but you must pay in full in 28-56 days.
The mortgage offered by a lender is for a specific property and can't be transferred to another. You could also consider a bridging loan if this is suitable.
Some auction properties are not eligible for a mortgage – either because they are properties in need of renovation or because they are of non-standard construction. In such cases, a mortgage broker who specialises in auction property might be able to help.
Property resources:
How do I sell my house at auction?
If you are interested in selling your house at auction, you can do so through a local or national auction house. An appraisal auction valuer will be sent to inspect the property and help you set a guide price and a reserve price.
You will then be asked to provide all the necessary documentation for the property including a legal pack which is drawn by a solicitor. You must also sign the auction house terms and conditions of sale and arrange some viewing days.
The auctioneers will be responsible for marketing the property, but you should ensure the listing on the website or catalogue is error-free. The price of selling a property at auction is about £1,000-£1,200 for legal fees plus 2.5% of the value of the property for the auctioneers (paid even if the house is unsold).
Selling your property at an auction is often a good way to sell your house faster than via normal channels.
How do I find property auctions near me?
Upcoming property auctions are sometimes advertised in the local press. You can also contact auction houses directly. Local property auctions will have properties for sale in your area and will possess in-depth knowledge of the local and UK property market.
National auctioneers based in London and usually have properties from the whole of the UK. A filter on their search tool allows you to set your own parameters so you can easily find houses for auction which are near you and suit your personal circumstances, preferences and budget.
What are the risks of buying properties at auction?
One of the risks of buying a property at auction is that it might have structural or legal issues. For this reason, it is imperative that you view the property at least once, have a survey carried out and have the legal pack examined by an expert.
Another risk of buying an auction property regards the financing. You must budget carefully for your property investment so that you have sufficient funds to pay the 10% deposit on the day of the auction, all the other expenses (such as auction house fees and building insurance) as well as the remaining 90% of the purchase price within 28-56 days.
It is possible to get carried away on the day of the auction and inadvertently go over your budget. This happens more often than you may imagine. Be careful when bidding on property.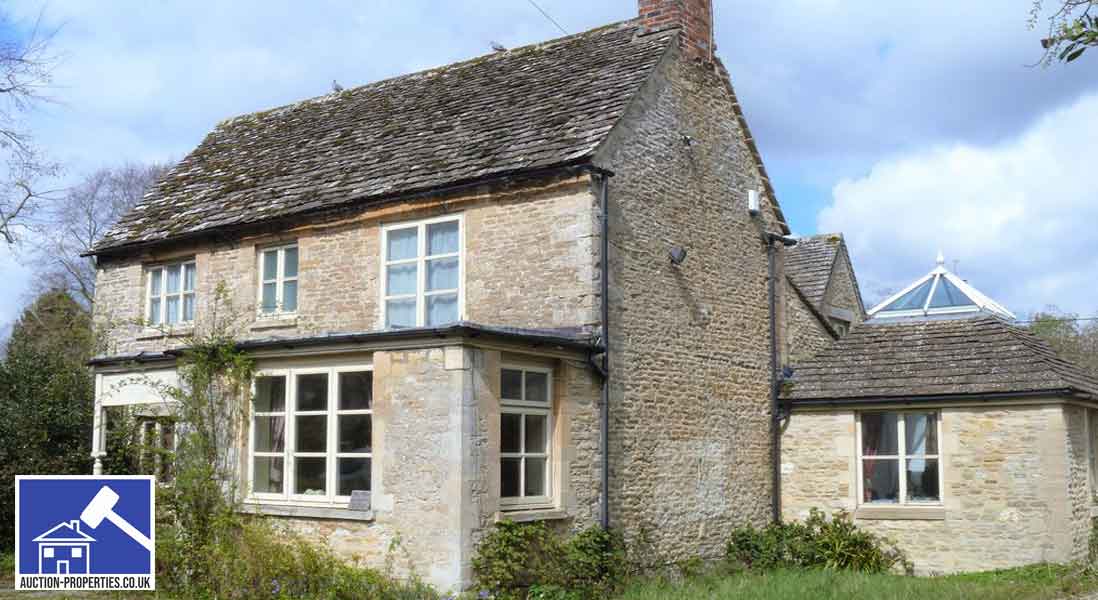 What is the difference between a guide price and a reserve price?
The guide price is how much the property is estimated to be worth. This price is reached through an evaluation by the auctioneer and in consultation with the vendor. The reserve price is the minimum selling price that the vendor would be willing to accept for the property.
This is a confidential agreement between the auctioneer and vendor and is only revealed if the property is unsold at auction. The reserve price is usually around 10% higher than the guide price.
How do I buy a property at auction?
If you are thinking of buying a house put up for auction, you should attend a few property auctions to familiarise yourself with how they work. Before the day of the auction, you should have researched the lot you are interested in by viewing it and by having its structure and legal pack examined by experts.
You should also view the property and speak to a property surveyor as well as conduct a home buyers survey on the property, including a building damp survey if you suspect dampness in the property.
If you attend the auction in person, you should register by providing two pieces of ID. You signify your interest by rising your hand or a paddle or card (given by the auction house). If you can't attend in person, arrangements can be made to make your bids by phone or by proxy. Online auctions are becoming increasingly common too.
Why are houses sold at auction?
One of the reasons that houses are sold at auction is because the vendor wants a quick sale (perhaps because of a divorce or to release equity in the property without becoming part of a chain). Another reason why vendors opt for an auction is that the selling process is transparent.
This is often the case when the property must be sold because of a bereavement or was bequeathed to a charity. Auction properties are sometimes problematic and are difficult to sell through an estate agent. This happens with repossessed properties, houses of unusual design or construction and houses which are derelict or need extensive renovations to become habitable.
Homepage: Property Auctions UK | Try our UK Mortgage Calculator or our Stamp Duty Calculator
If you are buying a property in order to rent it and become a private landlord, you can find a tenancy agreement for England and Wales here.
Property Resources:
Nava Propertymark
RICS Royal Institute of Chartered Surveyors